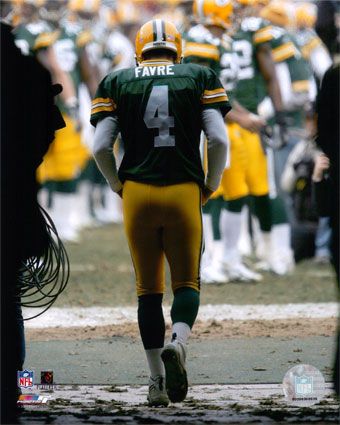 It's official.
Brett Favre is a Green Bay Packer no more. After 16 seasons, a Super Bowl title, and three MVP awards, Favre was traded to the New York Jets for a conditional draft pick. The pick is a fourth round pick that would turn into a third-rounder if Favre plays in 50 percent of the plays this season, a second-rounder if he plays in 70 percent and the Jets make the playoffs, or a first-round pick if he plays in 80 percent and the Jets make it to the Super Bowl.
Now I understand Brett Favre's one of the all-time greats in the NFL, and I understand his iconic status in Wisconsin, but unlike some folks who put no blame on Favre while excoriating Packers General Manager Ted Thompson and Head Coach Mike McCarthy, I think there's one person ultimately responsible for how things turned out, and that person is Brett Favre. As a Packers fan, I've always been a fan of Brett Favre, but more than that, I've been a fan of the team. Brett Favre's a New York Jet today because he put his own feelings and ego ahead of what was good for the Green Bay Packers, and so I don't blame Ted Thompson for ridding the organization of the cancer that Brett Favre had become. No player is bigger than the team, even if that player is Brett Favre.
And let's remember one more thing: Brett Favre didn't build the Packers back into a winning team; that was Ted Thompson, the same man who's been crucified for trading Favre to the Jets. It wasn't Brett Favre that acquired the players that led to a 13-3 season last year; it was Ted Thompson. The current successes of the Green Bay Packers are a product of some rather shrewd moves by Ted Thompson, and that's a fact that can't and shouldn't be overlooked. Oh, and one more thing regarding the Favre trade…it's not as if trading a legendary quarterback is unheard of. Joe Montana was traded from the Niners to the Chiefs, Joe Namath was waived by the Jets and went to the Rams, and Johnny Unitas was traded from the Colts to the Chargers. All were legends, and all ended their careers with teams other than the ones they found fame with.
And in regards to the beginning of the Aaron Rodgers era, I'll just say that I think he's going to prove to be a worthy successor to Brett Favre. If Ted Thompson and Mike McCarthy – two men who obviously want to see the Packers succeed on the field – didn't think Aaron Rodgers was ready to be a successful starting quarterback in the NFL, I've got no doubt they would have welcomed Favre back with open arms. The fact that the organization chose Rodgers over Favre speaks volumes about the faith they have in Aaron Rodgers as the quarterback to lead them to success in the post-Brett Favre era. I know I'll be rooting for Aaron Rodgers when he steps onto the field during the regular season, and I hope real Packers fans will be as well.