What's Halloween without Hammer Films? And what would Hammer Films be without Oliver Reed, Peter Cushing, and Christopher Lee? Another Halloween montage. Just for fun. Happy Halloween!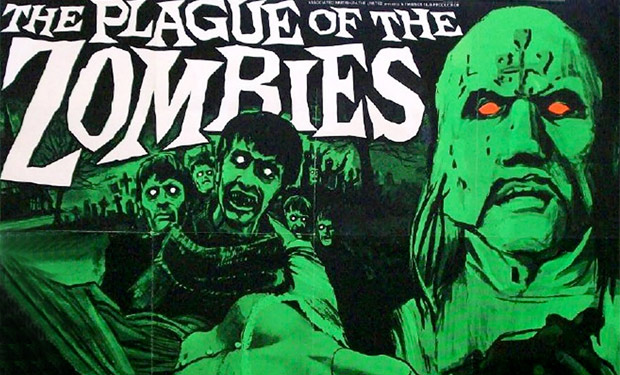 Sir Christopher Frank Carandini Lee is 91 years old and he's still acting. Not the oldest old goat still hoofing it on the screen. Not sure but that distinction might belong to Eli Wallach – 97 years old now and his last movie was just in 2010. Still, 91 is pretty impressive.
Christopher Lee opens his autobiography, Lord of Misrule, with a host of curious incidents that happened to coincide with the date of his birth, a few of those passages:
"The Times on the day I was born carried a lengthy feature advising its readers of the amazing phenomenon of the sudden huge expansion of radio in America, where in six months the number of receivers in private households had leaped from to to seven million. The paper's special correspondent wondered if he was present at the birth of a force for good or evil, but either way, a power that must alter society. If the programmes were good, he hoped, people might be kept away from the drinking dens, and to ensure this, drinking dens ought not to be allowed a wireless license."
"It gives me a curious feeling to reflect on that Saturday, the list of attractions offered by London's picture palaces was headed by The Adventures of Sherlock Holmes. Had my mother known that one day I would myself be playing Sherlock – and that in Germany – she would have certainly felt that she had wasted her weekend! What is more, I went on to support my dear friend Peter Cushing, when he played Sherlock and rescued me on the Dartmoor from the terrible hound of the Baskervilles. And I've played Sherlock's brother Mycroft as well. I have to admit that owning to the genius of Billy Wilder my Mycroft was greatly superior to my Sherlock."
One more odd little coincidence strikes me which, albeit not a superstitious man, I feel I ought to set down. Had my parents at the time perceived the connection they would be totally appalled and astonished, and wished even more fervently that they had restricted themselves in the way of progeny to their one child, my sister Xandra, then aged five. At the time that I was being made, so was Nosferatu, otherwise known as Dracula, in the great silent version by the German F.W. Murnau.
Biography at Christopher Lee: Official Website
 The 100th anniversary of Peter Cushing's birth occurred this past May.
Peter  Wilton Cushing's acting career spanned forty seven years and he worked continually on stage or in film from 1939-1986 save a stint between 1941 and 1947. During that time he joined the Entertainment National Services Association. He wrote two autobiographies.
From IMDb:
"In 1945 with no money for presents, he found a large piece of silk, cut it into a neat square, painted Dickens characters on it and gave it to his wife as a present. She later loaned it to a friend who wore it to a party where it was seen by a textile manufacturer who gave Peter a contract as a silk scarf designer. Amongst those he designed were those for the Festival of Britain and the Coronation."
Cushing quotes:
"You have to have a sense of humour, darling, to be alive. Even a bit mad. It helps to be mad."
"Teeth are a vitally important part of an actor's equipment. I have over 30 toothbrushes at home and always keep a good supply at the studio."
"I hate the word 'hate.'"
Peter Cushing Inverviews on Wogan
Peter Cushing Centenary Tribute
"Life should be lived and that's all there is to it." 
Oliver Reed "was born Robert Oliver Reed in Wimbledon, London, to sports journalist Peter Reed and his wife Marcia (née Napier-Andrews).[2] He was the nephew of film director Sir Carol Reed, and grandson of the actor-manager SirHerbert Beerbohm Tree by his alleged mistress May Pinney Reed. He was alleged to have been a descendant (through an illegitimate step) of Peter the Great, Tsar of Russia. Reed attended Ewell Castle School in Surrey.
Oliver's brother is Simon Reed, who is a sports journalist and also works for British Eurosport."

What Fresh Lunacy is This?  – Gabriel Byrne review of  The Authorized Biography of Oliver Reed, by Robert Sellers
Actor Oliver Reed's alcoholism, treated as entertainment by the media, caused mayhem and made him squander his immediate talent.
Among his mates were so-called "legendary hellraisers" Alex "Hurricane" Higgins and the certifiable Keith Moon, as well as the flotsam and jetsam of various pubs who frequented the mansion where mostly male bacchanalian roistering was mandatory.

In one gargantuan evening, he and 36 friends reputedly "drank 32 bottles of Scotch, 17 bottles of gin, 4 crates of wine and a Babycham". "People expect that sort of thing from you when you are a hellraiser," he once said to me with a mixture of despair and sadness.

However, the mythology which surrounds the hellraiser image (usually a euphemism for alcoholism) takes little account of the reality: the broken glass, the vomit, arrests, hangovers like thorns across a naked brain, broken bones, guilt, regret, blackouts, early-morning shakes, violence and blood. There is the denial of the sufferer himself, and very often of those around him, that he suffers from an illness which, if not arrested, can end only in insanity and death .

Oliver Reed was a chronic alcoholic and that is the huge elephant in the room that is never addressed properly in this exhausting biography. At 500 pages it is far too long and akin to being trapped with the pub bore. One can only take so many tales of excess and dissipation – a diligent editor might have addressed this as well as the inadequate index. Robert Sellers has mined this hellraiser phenomenon before and, although a good writer, he seems to have typecast himself in the role of amanuensis to the inebriated.

Alcoholism (long thought to be a moral failing) was declared by the American Medical Association to be an illness in 1956, both psychiatrically and medically, and we now know, with recent advances in neuroscience, that addiction is as much a disorder of the brain as any other neurological illness.
He went probably as he'd have liked, on the floor of a pub in Malta, the complex stew of melancholy, gentleness, kindness, and cruelty dead at 61. The miracle is he lived so long.
Here is a list worth pondering: Baudelaire, Doctor Johnson, Faulkner, Bukowski, Tolstoy, Dylan Thomas, Coleridge, Sartre, Hemingway, Fitzgerald, Ray Carver, John Cheever, Burton, Harris, Hank Williams, George Best, John Barrymore, Bogart, WC Fields, John Ford, Ted Kennedy, Churchill, Judy Garland, Kerouac, Anne Sexton, Truman Capote, Spencer Tracey, Brendan Behan, Heath Ledger, River Phoenix, Amy Winehouse, etc, etc. What they all have in common is that like millions of unknown others they suffered, and in most cases died, from addiction to drugs or alcohol.

As a society we must begin to view this deadly illness not with condemnation but with compassion, and cease criminalising or romanticising the suffering of the addict. Let's stop the prurient and voyeuristic media reporting of their sad travails (Lindsey Lohan, Amanda Bynes, Paul Gascoigne).

I knew and drank with many famous "hellraisers": Oliver, Richard Harris, Jon Finch, Richard Burton, George Scott, Sterling Hayden, Nicol Williamson, and many not so famous. All of them found the world as it is intolerable. They needed something more: the moon perhaps, something demented, as Camus says. But I'm convinced that all of them were half in love with easeful death itself – the soul a battleground, as in the story of Jekyll and Hyde, for the angel and the fiend.