To say it's been a bad weekend for Senator John McCain would be an understatement.
First came news Senator Barack Obama, the Democratic presidential nominee, had raised 150 million dollars in September, a record for campaign fundraising, then came a campaign rally on Saturday in St. Louis, where Sen. Obama drew an estimated 100,000 people to hear him speak: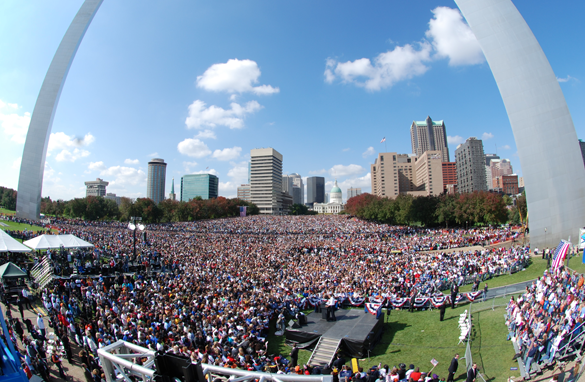 And then to end Sen. McCain's bad weekend came a long-rumored endorsement of Sen. Obama by former Secretary of State Colin Powell. During an interview on Meet the Press, Powell said of Sen. Obama, "I think he is a transformational figure, he is a new generation coming onto the world stage, onto the American stage, and for that reason I'll be voting for Sen. Barack Obama." While discussing the McCain/Palin campaign, Powell stated he was concerned about what he described as a recent negative turn of Republican candidate Sen. McCain's campaign, such as the campaign's attempts to tie Obama to former 1960s radical Bill Ayers:
"I think that's inappropriate. I understand what politics is about — I know how you can go after one another, and that's good. But I think this goes too far, and I think it has made the McCain campaign look a little narrow. It's not what the American people are looking for," he said.
Yeah, I think it's definitely safe to say Sen. John McCain didn't have a great weekend.